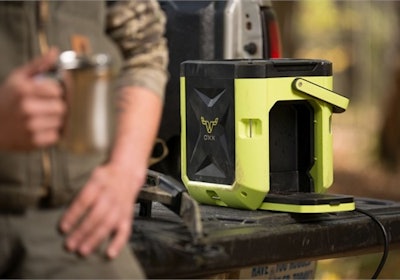 Have you ever wished you could drink a cup of coffee out at a scene without having to spend a bunch on it or waste resources on having someone get it for you? What if you and every other officer out on a long call could make your own individual piping hot cups of coffee as you needed them? Enter the CoffeeBoxx.
Oxx has created the CoffeeBoxx to provide multiple single-serve cups of coffee made to your specifications when you want them, even at remote locations. And it's made to withstand plenty of bumps, scrapes, and impacts without spilling or getting broken.
Oxx founder and CEO Jim Doan was inspired to develop this ruggedized coffeemaker when he took a job designing appliances for Whirlpool and moved into a housing subdivision still under construction. "I kept seeing construction crews using appliances such as coffeemakers and microwaves, the things I was designing during the day for home use, but they were using them outside and they got beaten up, nasty, and broken," says Doan.
To make sure anyone working outside under harsh conditions could enjoy the same coffee found in homes and office break rooms, Doan made the CoffeeBoxx crushproof, impact resistant, ruggedized, and water-, dust-, and rust resistant. "It's really designed more like a power tool than a home appliance," says Doan. "You can take it and pack it with the rest of your gear."
To make it conveniently portable, it weighs less than 12 pounds when unfilled, and it's built with six external stainless steel tie downs, a retractable cord, and a rubberized handle for easy carry. "It's also got the largest water tank in the industry," says Doan. "It's got an 85-ounce water tank, which gives you about 10 8-ounce cups of coffee." And it's made to be spill-proof, so even if you travel with the CoffeeBoxx full of water, it shouldn't leak or spill. Most customers carry extra bottles of water in their vehicles to refill the tank out on a call, Doan says.
That means you'll be able to share your CoffeeBoxx not only with other officers on a call, but also with other emergency responders on scene, which Doan says many agencies have done. Some use them in their mobile command centers. You can plug the machine into any available outlet either directly or via an extension cord. Or you can hook the CoffeeBoxx up to a generator or use a power invertor to connect it to a vehicle for power in virtually any location where you might find yourself working long hours. You can use any mug, thermos, or other vessel you like and it only takes 75 seconds to brew an 8-ounce cup. A hotter temperature of 192 degrees makes whichever coffee you select tastier, Doan says.
Beyond being able to choose your type of java by placing your preferred K-cup or other pod in the machine, you can further customize your experience by selecting from 8, 10, or 12-ounce cup size settings. And if you'd rather have something other than coffee, you can put a pod containing tea or hot cocoa in the machine or even use the CoffeeBoxx's dedicated hot water line. This water doesn't go through the coffee system, so it won't contain any residual coffee flavor, making it perfect for ramen noodles, oatmeal, or tea.
The CoffeeBoxx is available in safety green or black. The black model, which is popular with law enforcement and the military, costs $249 and can only be purchased directly from the company's website. Law enforcement discounts are available.
Doan is proud that the CoffeeBoxx is built for the tough environments in which law enforcement officers operate. "Just like for anyone who works in an office, coffee's important to keep officers alert and refreshed," says Doan. "This is the first coffeemaker that is meant to go out in the field where people work."
For more information visit https://oxx.com