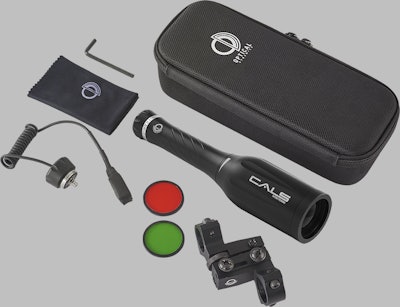 Over the years I have reviewed more flashlights than I can count. They're a staple of our profession and the technology is ever changing. That being the case when I received my latest T&E from Optical Dynamics I was expecting the next-generation torch, not so much different than those before it. My key mistake was assuming the OD40 Long Distance Illuminator was a run-of-the-mill flashlight. It's not.
Designed for hunters but just as valuable to snipers, Optical Dynamics created the OD40 to fill a role almost no other handheld flashlight can: illuminate targets at extreme distance with almost zero light bleed. This means the beam is ultra condensed, similar to a laser, and the field of illumination is crisply defined.
Weighing in at 13 ounces, including the two CR123 batteries, the OD40 produces a collimated, condensed beam of focused light that is adjustable via the 40mm rotating bezel. At 50 yards the beam is only 27 feet wide. Anything within that beam is crisply illuminated, everything outside is absolutely dark. This means there is no wasted light to reflect back at the operator or illuminate unintended target areas. Optical Dynamics claims a maximum effective range of 200 yards, a runtime of 100 minutes and a diode lifespan of more than 100,000 hours.

In the hand, the OD40 is definitely hefty and not something I'd use as a duty flashlight, but then again that's not what it is designed to do. The IPX6 and IPX7 rated body is smooth anodized aluminum with a few machined grooves for grip. The bezel is very stiff and requires quite a bit of effort to rotate but this feature actually comes in handy as it prevents unintended adjustments. I would compare this more to a weapon accessory; once you get it configured and mounted, leave it alone.
The OD40 comes with a zippered nylon case and both red and green filters. There's also a mounting kit available with dual rings and a remote pressure switch, although the body of the OD40 will fit any 30mm or 1-inch scope ring. If you're a nighttime hunter, sniper, or even a beat cop with a need for the best possible long-distance illumination tool the OD40 is a true contender.
A.J. George is a sergeant with the Scottsdale (AZ) Police Department assigned to the Technical Operations Unit, Special Investigations Section. He has more than a decade of law enforcement experience in patrol, field training, and traffic enforcement.