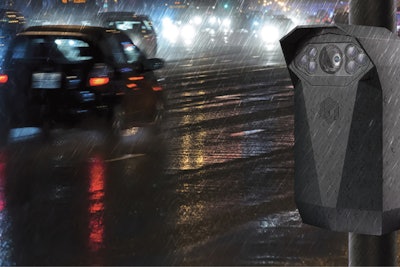 Automatic license plate recognition (ALPR) technology is widely used by law en-forcement agencies and commercial security operations to help identify vehicles during an investigation. However, the ability of ALPR cameras to provide high-quality images at night and in poor weather conditions, along with comprehensive vehicle information, has traditionally been limited. Likewise, hotspots for nighttime crime tend to change, and hardwired ALPR cameras can be difficult to redeploy to a new location.
The Problem
According to a survey of law enforcement professionals conducted by my company, Genetec, over 65% of violent crimes occur at night, and clearance rates are approximately 15% lower for night time crimes versus daytime offenses. The survey also indicates that 60% of crimes involve a vehicle.
When a witness is providing information about a crime involving a vehicle, they often can't recall a license plate number, but they can recall the type of vehicle, the color, and even some identifying details such as approximate speed or unique characteristics. With technology that's limited to license plate recognition, those valuable details about the vehicle can't be acted upon without sifting through hours of video or volumes of still images, delaying the investigation process.
The Solution
To aid law enforcement professionals in the investigation of crimes involving vehicles, Genetec has developed AutoVu Cloudrunner, a cloud-based vehicle-centric investigation system (VCIS). It utilizes the all-new Cloudrunner CR-H2, a high-performance, solar-powered ALPR camera that detects highly accurate vehicle identification data day or night, rain or shine.
Powered by the AutoVu Machine Learning Core, a deep neural network-based vehicle recognition analytics engine, the CR-H2 camera goes beyond license plate recognition to collect, analyze, and securely store vehicle information such as vehicle color, type, and make, as well as behavior analytics, including speed and direction of travel. This allows investigators to narrow their search even when they do not have or only have partial license plate information available. The Machine Learning Core can also produce results from a vague vehicle description.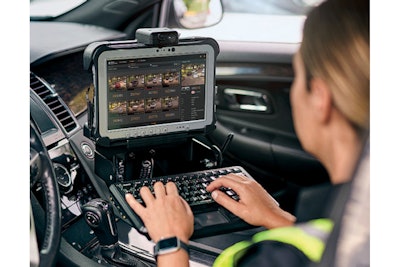 When investigators begin to review the data collected, the system's intuitive dashboard provides the capability to easily search and filter through data based on the descriptive information collected by witnesses. Operators can customize the search fields based on the witness's recollection of the vehicle and can focus on the most relevant data for the investigation. With just a few clicks, filters on the dashboard can parse through data to help identify the vehicle involved in the crime and its license plate information. They can then further their investigation by analyzing details such as movement patterns and timing of the suspected vehicle. Law enforcement teams can then use notifications and live monitoring capabilities to quickly identify and track potential suspects.
To further help law enforcement agencies, the AutoVu Cloudrunner CR-H2 is easy to install. Since the camera is solar-powered, there's no wiring infrastructure or hardwire electricity needed. It can be installed in minutes and professionally calibrated and optimized remotely by a member of the Genetec team. Law enforcement agencies can start collecting vehicle data quickly and can also leverage that ease of moveability to set up a virtual stakeout in any location. As crime hotspots move, the device can be relocated without additional rewiring.
The cloud-based architecture of the AutoVu Cloudrunner reduces IT and maintenance costs and works wirelessly over existing cellular networks such as 4G or LTE. It is easy to install, set up, and maintain without the need for specialized ALPR expertise.
In addition to the CR-H2, the Cloudrunner investigation system is also compatible with existing ALPR cameras such as the AutoVu SharpV and has the ability to integrate with ALPR data coming from select third-party cameras. This allows law enforcement agencies to take advantage of Cloudrunner's vehicle-centric investigation tools when using select cameras they may already have in place.
Case Study
The Belle Meade (TN) Police Department was an early adopter of AutoVu Cloudrunner. "AutoVu Cloudrunner provides us with high quality, accurate reads day and night. In pouring rain or total darkness," investigator Thomas Sexton of the Belle Meade PD says.
AutoVu Cloudrunner can aid investigations in a wide range of crimes involving vehicles, including:
• In cases where officers have a witness who can't recall a license plate number, this advanced identification system can zero in on the right vehicle using other criteria. Historical data can then be searched to determine any pat-terns involving that vehicle.
• For campus security teams, this purpose-built, vehicle-centric investigation system can help identify which cars were on campus during an incident day or night.
• For community associations, Cloudrunner can reveal which vehicles were in the neighborhood during a series of break-ins, even if those occur at night or in bad weather.
• For gang-related crime investigations, the Cloudrunner CR-H2 can be quickly installed in hotspot locations, then moved as the gang activity moves. Cloudrunner can also notify agents when a vehicle on a watch list is detected, aiding in time-sensitive
investigations.
As a cloud-managed system, Cloudrunner lets customers scale their system up or down based on their needs while providing them with the ability to automatically update their system with new features and functionalities as they become available. Whether the need is to monitor vehicle activity in known crime hotspots or collect information for a specific investigation, AutoVu Cloudrunner can provide investigators with access to more evidence, no matter when, or in what weather conditions the crime took place.
Larry Legere is the commercial director for AutoVu at Genetec. Legere joined the company in 2009 and has over 30 years of experience working in security and access control. He oversees the regional sales management, sales engineering, and channel sales support teams for AutoVu.