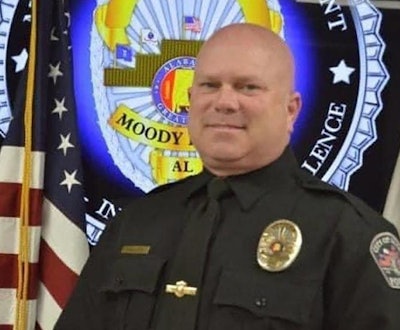 A Birmingham man has been convicted in the shooting death of Moody police Sgt. Stephen Williams more than three years ago.
Williams, who was posthumously promoted to the rank of lieutenant, was killed June 2, 2020, while on duty.
A St. Clair County jury on Thursday convicted 31-year-old Tapero Carleone Johnson of capital murder. On Friday, that same jury recommended Johnson be sentenced to death.
"On June 2nd 2020, Lt. Stephen Williams was brutally murdered while responding to a call for service. Today, a jury returned a verdict of death for Tapero Johnson,'' Moody police Chief Reece Smith said in a statement to AL.com. "And though this does not heal all wounds from this tragic loss, it does send a message that justice still prevails in our society."
District Attorney Lyle Harmon also said he is thankful for the verdict and all who helped bring the investigation and trial to a successful conclusion.
"Lt. Williams responded to a 911 call at the Super 8 Motel in Moody. As he knocked on the door, he was immediately met with gunfire from inside the room,'' Harmon said. "The defendant fired 43 rounds through the wall and door of the motel and used four different weapons during the assault."