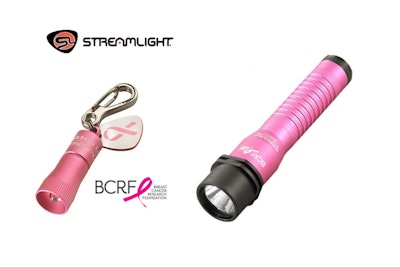 Each October Streamlight recognizes Breast Cancer Awareness Month by donating proceeds from its pink line of lights to the Breast Cancer Research Foundation. Since 2010, the company has donated $867,000 to BCRF to provide funding for more than 17,000 research hours for the organization seeking to prevent and cure breast cancer.
In 2022, the company donated $21,500 from sales of the pink Nano Light key chain light, the pink Siege AA ultra-compact lantern, and the pink Strion LED tactical light. For each of the lights, Streamlight donated $1, $2, and $5, respectively.
According to BCRF estimates, a woman in the U.S. is diagnosed with breast cancer every two minutes. More than 43,000 women and 500 men will die from the disease this year. Because of research conducted by organizations like BCRF, deaths from breast cancer have decreased by 43% in the last three decades, Streamlight said.
"Several of our employees are among those who are breast cancer survivors, which is why we decided to create a line of pink flashlights and donate a portion of the proceeds to BCRF to help find a cure for this disease," said Streamlight Chief Revenue Officer Michael F. Dineen.
Visit the Lights for a Cause page on Streamlight's website to learn more.