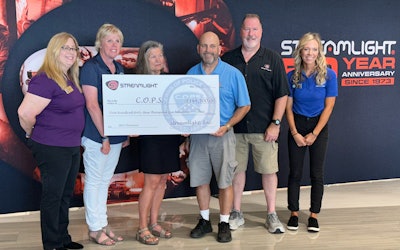 Streamlight Inc., a leading provider of high-performance lighting and weapon light/laser sighting devices for the law enforcement market, has renewed its sponsorship of Concerns of Police Survivors (C.O.P.S.) for the 24th year in a row. The company's support helps to underwrite ongoing programs and activities for survivors of fallen officers. Streamlight's 2023 contribution as a C.O.P. S. Guardian Sponsor totaled $144,500, including proceeds from recent sales of its "blue" C.O.P.S. logoed products.
Streamlight supports the C.O.P.S. organization by sponsoring multiple programs and events throughout the year. This year Streamlight's support culminated in National Police Weekend activities in Washington, DC, where the company was the Presenting Sponsor at the Blue Honor Gala on May 14.
The company also is a sponsor of Law Enforcement United, which helps to raise money for C.O.P.S. through programs like its recent "The Road to Hope" memorial bicycle ride.
In addition, every year Streamlight earmarks $1 from the sale of each Blue Nano Light for C.O.P.S. The keychain flashlight boasts a super bright white LED and a double-sided fob that features the C.O.P.S. logo on one side and Streamlight's logo on the other side. Streamlight also donates $2 from the sale of each Blue Siege AA lantern, featuring one white and two blue LEDs, and the C.O.P.S. logo on its globe.
"Streamlight is proud to serve as a Guardian Sponsor of C.O.P.S., and to support the organization's many programs for those who have lost loved ones in the line of duty," said Streamlight President and Chief Executive Officer Ray Sharrah. "As a leading provider of lighting equipment for first responders, we are committed not only to providing tools to keep police safe, but also to assisting C.O.P.S. in the important work they do for law enforcement."
Today, more than 50 C.O.P.S. chapters nationwide provide resources to some 50,000 survivors, including immediate and extended families and co-workers of officers who have died in the line of duty.
For more information about C.O.P.S. and the programs that it offers, go to  Concerns of Police Survivors (C.O.P.S.).