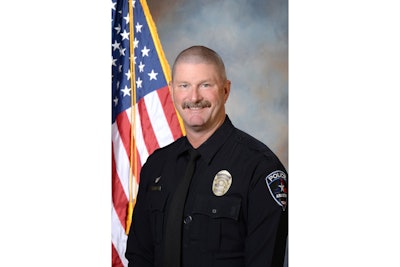 An Arlington, TX, police officer was killed Thursday morning on his way to work when he fell off his motorcycle during a minor accident and was struck by a hit-and-run driver, officials say.
Officer Darrin McMichael was riding his motorcycle at about 6:10 a.m. when cars in the left lane of Interstate 20 started to stop. Investigators said he could not stop in time and bumped into an SUV, officials said. After hitting the SUV, McMichael fell off his bike, and a dark-colored vehicle ran over him.
The driver of the dark-colored vehicle drove off, driving between the officer's bike and the median wall on the left side of the interstate to get away, officials said.
The department said McMichael had been a member of its Motorcycle Unit for 13 years. He also served as a patrol officer and as a detective in the North Patrol District during his career with the Arlington Police Department, NBC DFW reports.
Chief Al Jones said McMichael's widow is also an employee of the Arlington Police Department and, after spending the morning with their family at the hospital, asked for prayers and support for their family as they grieve.
Because of where the crash occurred, the Dallas County Sheriff's Office has jurisdiction and will be investigating the crash.