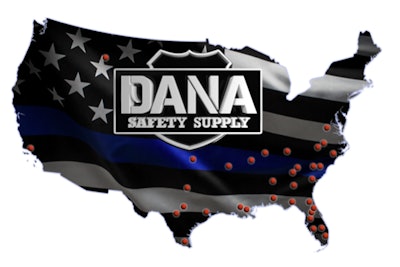 Dana Safety Supply's location map, showing 35 locations across 13 states.Dana Safety Supply
Dana Safety Supply, one of the nation's largest Public Safety Equipment provider with vehicle upfit capabilities, has announced the simultaneous opening of two new locations: Mandeville, LA, (serving metro New Orleans) and Knoxville, TN, (serving eastern Tennessee and the Tri-State area).
These locations represent the 34th and 35th locations for the company, having opened three new locations this year alone. The Knoxville location will be managed by Regional General Manager Kyle Pippin. The Mandeville location will be led by Regional General Manager Donnie Still.
"These two locations represent our commitment to our customer base," says David Russo, president and CEO of Dana Safety Supply. "Our locations are often chosen more by customer requests than sitting in some boardroom putting pins in maps.
"The success of Dana Safety Supply can be directly traced to what seems to be a lost art: actually listening to the needs of our customers," Russo continues. "Understanding the market, building positive relationships, and having the backing of our steadfast parent company and manufacturing partners allows us to grow at will. We're thankful to all of our employees, partners, and amazing customers who all help fuel our growth, and look forward to more announcements soon."
The Knoxville location will add 22,100 square feet of installation and warehouse space, and lot staging for more than 40 vehicles. The Mandeville location adds 15,000 square feet of installation and warehouse space and lot staging for more than 130 vehicles. This brings Dana Safety Supply's total operation square footage to well over half a million square feet nationally.
For additional information on Dana Safety Supply, go to www.danasafetysupply.com.