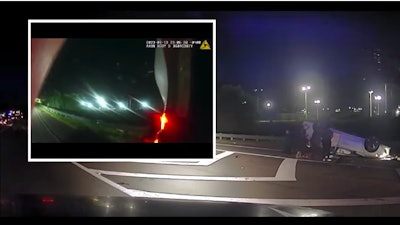 Lawrenceville, GA, police officers and Good Samaritan recently joined together to life a car off of a teen driver.
Police say it all started on the night of Sept. 13 when a sergeant spotted a car speeding down State Route 316.
Moments later, the officer saw the same car flipped over. Officials say the driver had been partially thrown through the sunroof and his upper body and head were squeezed between the car and the road, Fox 5 reports.

He can't breathe. We've got to lift this car up right now," the officer is heard saying on his body camera.
Officers and good Samaritans worked together to lift the 3,600-pound car off of the man, saving his life.
The teen was severely injured and remains hospitalized.
"The actions of the four officers and the good Samaritans likely saved his life," the Lawrenceville Police Department wrote on Facebook.