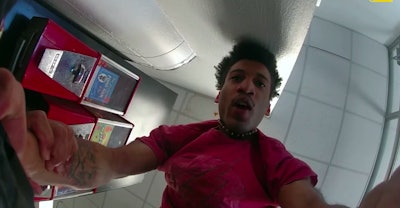 Body camera and security footage released Tuesday show a man attacking a Youngstown police officer last week in the lobby of the police department.
Keishaun Sims, 27, of Austintown, was arrested for the attack last Thursday. He is presently in the Mahoning County Jail on charges of aggravated robbery, a first-degree felony; two counts of assault on a police officer, a fourth-degree felony; and misdemeanor counts of resisting arrest and obstructing official business, WKBN reports.

In the video, Sims comes to the lobby and asks an officer who is working at a front desk if he can speak to the chief or a "manager."
The officer told Sims that he needs to make an appointment to speak to the chief or anyone else and Sims balks and talks about a "manifestation." The officer then tells him that kind of talk tells him that perhaps he has a mental problem, which upset Sims.
Sims managed to knock the officer down, and the officer had his gun pulled and Sims tried to get it before other officers arrived and managed to handcuff Sims. He then insulted those officers.