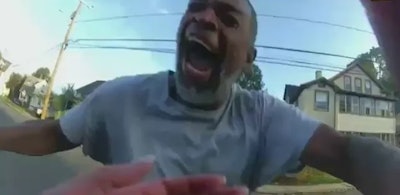 A Middletown, CT, police officer was attacked by a man wielding a claw hammer Saturday evening after responding to a complaint about noise and breaking glass on a residential street.
Detective Karli Travis, who runs the Middletown Police Cadet Program and serves in the patrol division, was the first officer who responded to the call. She approached the resident on foot and police said that she immediately noticed that the suspect, 52-year-old Winston Tate, was wielding a blunt object, Fox News reports.
In a press conference on Tuesday, Chief Eric McCallister said that Travis calmly asked Tate to drop the object, a metal hammer, to the ground.
He refused and Travis radioed for backup.
Body camera footage shows violence immediately ensue as Tate tackles the police officer and the pair begins thrashing around.
Chief McCallister said that the detective attempted to distance herself from her attacker and continued telling the suspect to put the hammer down. Travis eventually takes out her handgun and begins rapidly firing at Tate.
Backup officers arrived and Tate was arrested.
Detective Travis was taken to the hospital and released that evening with minor injuries.
Tate also had minor injuries.