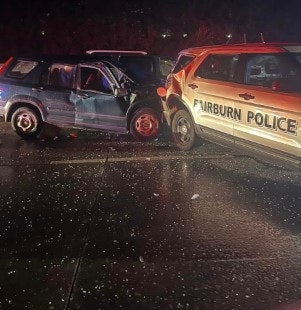 A Fairburn, GA, police officer was seriously injured Wednesday night when his patrol vehicle was struck by another vehicle at an accident scene on I-85.
"A motorist failed to move over and struck the Officer's patrol vehicle. The Officer just happened to be getting out of his car at the time of impact and was seriously injured," the Fairburn Police Department said on Facebook.
Medics rushed the officer to a local hospital. He is now in stable condition and is expected to recover from his injuries, Fox 5 reports.
"This is a reminder of why we urge drivers to slow down, move over, don't drive distracted, and don't drive under the influence," the Fairburn PD said.