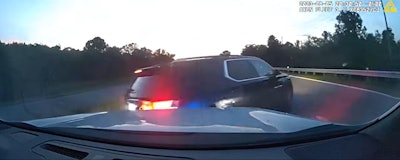 Deputies from the Pinellas County (FL) Sheriff's Office captured four robbery suspects Saturday after a vehicle pursuit that ended after two PIT maneuvers.
The sheriff's office reports on Facebook that deputy spotted an SUV that matched a vehicle associated with an armed robbery at a residence from earlier in the day. The deputy attempted a traffic stop and a vehicle pursuit began as the suspects fled in the Chevrolet Traverse SUV.
As the deputy caught up with the suspect's vehicle, he attempted a PIT maneuver, which disabled the deputy's vehicle but failed to disable the suspect's Chevrolet, the Pinellas County SO reports on Facebook.
Another deputy joined the pursuit, caught up with the Traverse, and attempted a second PIT maneuver, which was successful. Four suspects ran away from the stopped Traverse.
The suspects were captured later that night after K-9s tracked them to a local apartment building.
During the investigation, a large amount of marijuana and several firearms were recovered.