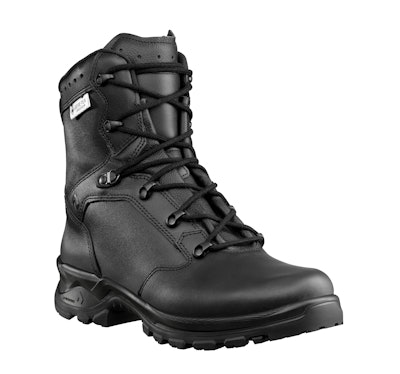 Haix has announced the availability of the new Enforce X High. The new boot features a streamlined design and a waterproof and breathable CrossTech liner that offers an additional layer of protection from potential biohazards officers might encounter on the job like blood and body fluids. The liner also protects from chemicals.
The Enforce X High is designed for comfort, durability, foot support and slip resistance, and it meets even the strictest uniform requirements. The lightweight all-leather upper is soft, supple and durable and features Haix's European bull hide leather.
"Enforce X High will hold its shape and wear better than any other boot on the market," says Sandy Longarzo, marketing manager for Haix. "The long-lasting leather will not only keep feet protected but also keep boots looking good even when work days get a little rough and tumble."
Utilizing a newly-developed anti-slip sole, Enforce X High ensures you have secure and stable footing for every situation, the company says. The rubber blend works hand-in-hand with Haix's distinctive tread design to make sure traction is maintained on a variety of surfaces, in any kind of weather, even when it's wet and cold. The built-in stone shield guarantees your feet aren't going to feel every rock, stone, or piece of debris encountered out in the field.