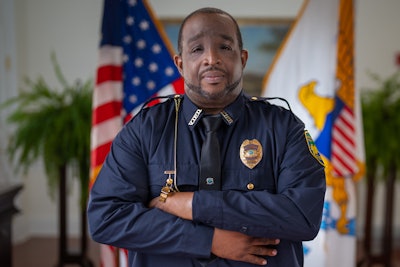 A Virgin Islands Police detective was fatally shot by a suspect wielding a rifle while on duty in the Hospital Ground area of St. Thomas Tuesday. A suspect is in custody.
Detective Delberth Phipps Jr., 42, was responding to a 911 call of a man carrying a firearm and wearing a "bulletproof" vest just before 8 a.m. when he was shot, according to the V.I. Police Department.
"Upon officers' arrival, the suspect fired upon them with a high-powered assault rifle," the VIPD release stated. "Responding officers immediately engaged the suspect." During the exchange of gunfire Phipps, a seven-year veteran of the police force, and the suspect were both wounded, the St. Thomas Source reports.
Both were transported to for treatment at a local hospital. Phipps succumbed to his wounds, police said.
The suspect, Richardson Dangleben Jr., 50, is in custody. Preliminary investigation reveals he was wearing a bulletproof vest and armed with an assault rifle, handgun, and several hundred rounds of ammunition, according to police. He was out on bail after he was released to the custody of his parents for the Feb. 24 first-degree murder of Keith A. Jennings, 68, in Hospital Ground, the release stated.