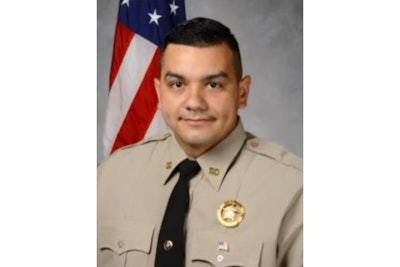 A Crisp County (GA) Sheriff's deputy was shot and killed early Wednesday morning, and the suspect fled in his patrol vehicle.
Deputy Tyee Browne was making a traffic stop on a suspect who was wanted for burglaries in Cordele around 3:40 a.m. As the deputy was approaching the suspect, Croshawn Cross, 25, Cross shot him, police say. Browne was mortally wounded and the suspect fled the scene in the deputy's patrol car, the Georgia Bureau of Investigation (GBI).
Deputy Browne succumbed to his wounds at a local hospital.
Cross was arrested by Monroe County Sheriff's deputies after a multi-county chase.
Cross is facing charges of malice murder, felony murder, two counts of aggravated assault, theft by receiving stolen property, carjacking, three counts of possession of a firearm by a convicted felon, three counts of possession of a firearm during the commission of a crime and two counts of theft by taking, WALB reports.
Monroe County deputies also recovered the stolen patrol vehicle.