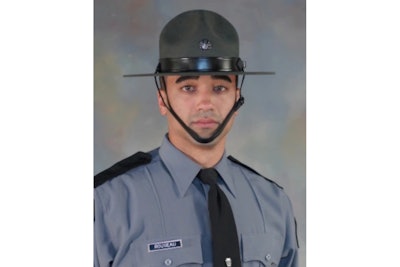 A rifle-wielding suspect fired shots at Pennsylvania State Police Saturday at multiple locations. One trooper was killed. Another was critically wounded. And the gunman was fatally shot by law enforcement.
The fallen officer has been identified as Trooper Jacques Rougeau Jr., 29. The wounded officer has been identified as Lt. James Wagner, 45.
Police say the incident began at 11 a.m. when 38-year-old Brandon Stine drove into the parking lot of PSP's Lewistown Barracks and started firing at vehicles. He drove off before police could return fire.
At 12:45 p.m. Lt. Wagner encountered the suspect in Mifflintown. He was shot and critically wounded during the encounter.
At around 2:30 p.m. Trooper Rougeau was ambushed and killed in his patrol vehicle while driving in Walker Township.
Stine was engaged by multiple officers later that afternoon. He was killed in a gunfight. Police estimate hundreds of rounds were fired by the suspect and law enforcement.