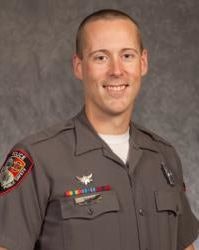 Riverside (Mo.) Police Officer Jeff Taylor has been induced into a medical coma in the intensive care unit of a Springfield, Mo., hospital, as he struggles to recover from being struck by lightning.
To help provide updates on Officer Taylor's medical status and thank supporters, family members and command staff with the agency set up a Caring Bridge web page, allowing for updates and comments of support.
"Jeff has sustained many injuries but with hope and prayer and the good fortune of him being young and strong we feel he will pull through," according to a message on the site. "The family wants to thank everyone for their continued prayers and support."
Officer Taylor, 31, was struck by lightning May 23 while providing mutual aid to the first-responders in Joplin, where a multi-vortex EF5 tornado struck the area. Officer Taylor was a member of the 12 officers, fire personnel, and public works staffers from Riverside.
He joined the Riverside PD in 2005, serving on the department's K-9 Unit from 2007 to 2010. Prior to joining Riverside PD, he was an officers with the Webb City, Mo., Police Department, located near Joplin.
Officer Taylor is a married with two children. Riverside is located just outside Kansas City.
By Paul Clinton
Related: