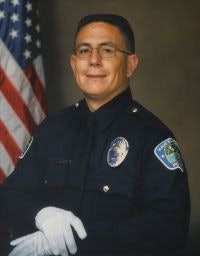 A Hawthorne (Calif.) Police motorcycle officer was killed during a crash Thursday in Torrance while the two escorted a funeral procession for a third officer who had died of cancer.
Hawthorne PD's Officer Andrew Garton, 44, was killed during the 12:34 p.m. accident and El Segundo Police Sgt. Rex Fowler was injured when the officers collided on Hawthorne Boulevard near 227th Street, Torrance PD's Sgt. Jeremiah Hart tells PoliceMag.com.
Officer Garton was thrown into oncoming traffic and collided with a vehicle traveling north on Hawthorne. Both officers were transported to Harbor General Hospital. Sgt. Fowler is in stable condition with a broken leg.
The officers were handling traffic control for the funeral procession of Manhattan Beach PD's Officer Mark Vazquez, who died May 15 of cancer.
Officer Garton was a member of the Hawthorne PD for more than seven years and a motor officer for more than four years. He leaves behind a wife and two sons. He is the first line-of-duty death for the department.
The California Highway Patrol's Multidisciplinary Accident Investigation Team (MAIT) is handling the traffic collision investigation.
By Paul Clinton