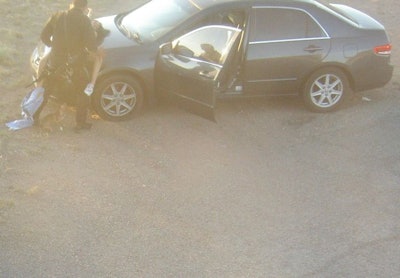 The New Mexico State Police have fired an officer caught having sex with a woman on the hood of a Honda at a remote ranch in Santa Fe County.
The Department of Public Safety informed Officer Bert Lopez late this week that he was fired, reports Geoff Grammer of The New Mexican. A state police spokesman declined to provide additional details, citing the officer's 30-day window to appeal the decision.
State police identified the officer, after two images from a surveillance camera at the county's La Bajada Ranch reached Sheriff Robert Garcia, who forwarded them to the state police. The officer was depicted having sex with a woman wearing ballet slippers with a Chihuahua looking on. He won't face criminal charges.
Officer Lopez, an eight-year veteran, was named officer of the year for the Santa Fe division in 2009. He had been given a challenge coin for going beyond the call of duty in July.
Source: The New Mexican.
Related:
N.M. Cop who Had Sex on Hood Didn't Commit a Crime
N.M. State Police Investigate Trooper Caught Having Sex on Car Hood