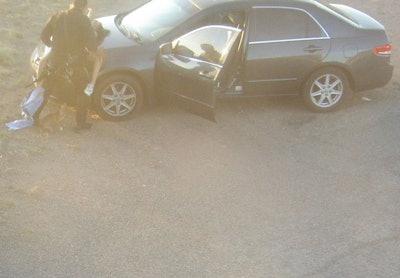 The New Mexico State Police officer caught on video surveillance cameras having sex with a woman on a car hood didn't commit a crime, but could lose his job for publicly embarrassing the department.
The state trooper, who has been identified as Bert Lopez, has been placed on administrative leave. Because Officer Lopez was wearing his uniform, he would be considered on duty even if he had finished his shift, the state police's Sgt. Tim Johnson told KRQE-TV.
The woman seen in the photos wasn't involved in any of the officer's cases. Officer Lopez is an eight-year veteran who was named officer of the year for the Santa Fe division in 2009.
Source: KRQE
Related:
N.M. State Police Investigate Trooper Caught Having Sex on Car Hood