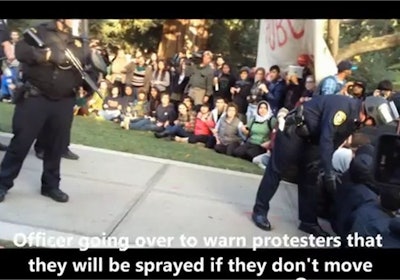 Police videos highlighting the hazards of vehicle pursuits, volatile crowds, and tricky arrests made 2011 a memorable year for PoliceMag.com. Let's celebrate the end of the year, by looking back at the 10 most-viewed videos on the site (in reverse order, of course):
10. Beach Confrontation In South Miami: Miami Beach Police officers entered a crowded beach scene in March to arrest intoxicated party people. The videos showed a combustible crowd scene at the waterline as onlookers filmed and shouted.
9. S.C. Man's Cruiser Joyride: Arthur Lee Thompson Jr., 38, fought with a Summerville (S.C.) Police officer, shook off a TASER, and stole the officer's cruiser. The joyride didn't end well for Mr. Thompson.
8. Citizens Aid Assaulted Calif. Cop: Two civilians intervened to help San Diego (Calif.) Police Officer Kelly Doherty, after a suspect she was questioning began punching her in the face. The suspect inflicted knife wounds on all three, before a TASER ended the fight.
7. Missouri Man Fires AK-47 at Pursuing Officers: Cody Wilcoxson led St. Robert (Mo.) Police on a 23-mile pursuit on May 13 where he fired an AK-47 at officers, including Chief Curtis Curenton's side-view mirror.
6. Alternate View of UC Davis Pepper Spraying: The Davis College Republicans have released footage they shot at the Occupy UC Davis protest where demonstrators were pepper sprayed. The footage shows a more complete account of the incident.
5. Parolee Fatally Shot In SF: San Francisco Police shot and killed a 19-year-old parolee after he allegedly fired at officers during a foot pursuit. The incident was captured on citizen video, which helped officers locate the assailant's gun.
4. Fla. Trooper Detained Miami Cop at Gunpoint: A Florida Highway Patrol trooper chased down off-duty Miami Police Officer Fausto Lopez and detained him at gunpoint, after clocking him driving 120 mph in his cruiser.
3. Ohio Man Jumps Officer In Station: Anthony Thomas, 29, of Cleveland leaps over a station counter to attack an Elyria Police officer, while the officer is booking him into jail.
2. On-Body Cam Captures N.M. Police Shooting: Albuquerque (N.M.) Police Officer Damian Lujan's on-body video camera captured his use of deadly force after responding to a DV call.
1. Wrestler Takes Down Ohio Deputy: Greene County (Ohio) Sheriff's Deputy Josh Barrett encounters a former standout high-school wrestler passed out in his vehicle. After the 21-year-old starts the fight, Deputy Barrett ends it with his TASER.