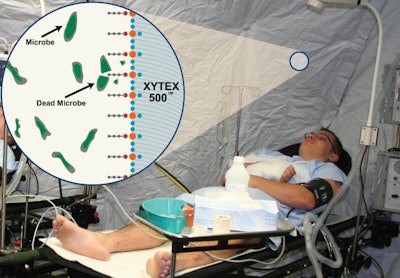 DHS Technologies has introduced the XYTEX 500 fabric for its Reeves DRASH shelters that provides an aseptic, sterile-like environment for surgery and complex medical procedures in the field.
The fabric offers 99.99 percent protection against microbes and other disease-causing microorganisms, according to the company. The World Health Organization recognizes microbes and the infections they spread as a leading cause of death in the world today.
"The next-generation of DRASH shelters will be a game changer for the shelter industry," said A. Jon Prusmack, president and chief executive for DHS Technologies, in a release. "We have always built superior shelters. Now, we offer a significant feature that provides tremendous benefits to the soldier."
The XYTEX 500 fabric provides antimicrobial protection to the shelters' surface. It can also enhance and greatly improve the environment for command-and-control and life-support areas. The end goal is to improve field hygiene and sanitation challenges, and contribute to the overall well-being of end-users by giving them a cleaner and healthier environment to work or rest in the field.
XYTEX 500 employs nanotechnology that is the first of its kind in the military shelter industry. The shelter's interior cover features a proprietary formulation of nano-size spikes ingrained into the fabric. These spikes lie on the fabric surface and puncture the cell walls of invading microbes. Upon contact, it pierces the microbes' cell membranes, ultimately killing them.
XYTEX 500 is also fire retardant, water repellent and resistant to abrasion and ultraviolet rays. It guards against mold, mildew and fungus and enables the shelter to stay cleaner between scheduled routine maintenance and when in storage after a deployment. Unlike other common antimicrobial fabric, XYTEX 500 is not a temporary disinfectant and will not dissipate over time. Instead, XYTEX 500 is permanent for the life of the fabric. The technology is also environmentally friendly and EPA registered.
DHS Technologies, known for its DRASH shelter systems, has long been part of the U.S. Army's Standard Integrated Command Post System (SCIPS) program. DRASH Trailer Mounted Support Systems (TMSS) large and medium are currently being fielded to all U.S. Army maneuver brigade combat teams, including units in Iraq and Afghanistan and numerous National Guard units across the United States, as the U.S. Army's standard for large and medium command posts.
Many non-military customers who also deploy DRASH include the Federal Emergency Management Agency (FEMA), the FBI Hostage Rescue Team, the Department of Alcohol, Tobacco and Firearms (ATF), the National Disaster Medical System, the Cities of New York and New Orleans among numerous other federal, state and local emergency response agencies.