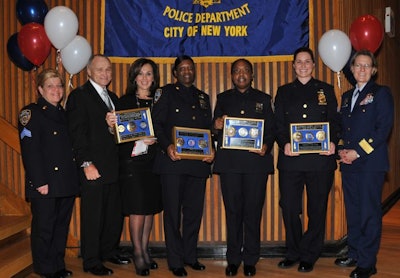 The New York Police Department honored three of its high-ranking female officers during a Women's History Month ceremony.
Commissioner Raymond W. Kelly and Sgt. Karen Pisano, president of the Policewomen's Endowment Association, honored the officers Wednesday at police headquarters.
"I'm very proud of how far we've come as a country from the days when women serving was a rarity," said Commissioner Kelly. "There are more women in the NYPD than any other police department in the country, but your value is not merely in your numbers. It's in your unwavering commitment to our mission and the public's safety."
The NYPD now counts nearly 6,000 female officers among its ranks, a sharp rise from the 700 in the early 1970s. Of the current group, there are more than 600 detectives, 750 sergeants, 170 lieutenants, and approximately 50 with the rank of captain and above.
During the ceremony, the department honored Officer Carolyn Anderson, Sgt. Tara Dawe, and Officer Morna Davis.
Anderson, a seven-year NYPD veteran, is the department's highest-ranking female military officer. She's a lietenant commander in the U.S. Naval Reserve. Dawe, a 14-year NYPD veteran, is a U.S. Army Reserve captain who served in Bosnia and Iraq. During her second tour in Iraq, Sgt. Dawe commanded 161 soliders in a military police company. Officer Davis, a 15-year NYPD veteran, is a first lieutenant in the U.S. Army National Guard who also served in Iraq.
"There can be no higher calling, no more important sacrifice or service, than the one these women of the NYPD have chosen to make," said Sgt. Pisano. "We can all see the surface similarities, the uniforms, the rank structure, but at its core, what the Coast Guard, Navy, Army, Air Force and Marines share with police officers, is their willingness to serve, and to sacrifice."