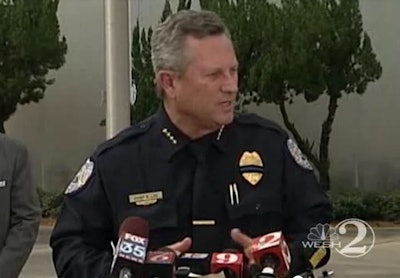 Sanford (Fla.) Police Chief Bill Lee has stepped down temporarily, saying he has become a distraction in the investigation of the death of 17-year-old Trayvon Martin.
"I do this in the hopes of restoring some semblance of calm to a city which has been in turmoil for several weeks," said Lee during a Thursday news conference.
Lee, a former Seminole County Sheriff's deputy, took over as chief in April. He took over policing in a jurisdiction with "hard-core urban crime and a hostile black community," reports the Morris Daily Herald.
The resignation came amid furious protests and calls for the arrest of George Zimmerman, who has claimed self-defense in the Feb. 26 shooting of Martin.
Florida Gov. Rick Scott appointed a task force to investigate the shooting and review the state's "Stand Your Ground" law. Angela Corey, the state attorney for Duval, Nassa,u and Clay counties, will serve as special prosecutor in the case, reports the Miami Herald.
On Friday, President Obama called the shooting a tragedy and promised to "get to the bottom of exactly what happened."
Related:
NRA Explains Florida's 'Stand Your Ground' Law
'Stand Your Ground' Law At Center of Fla. Shooting