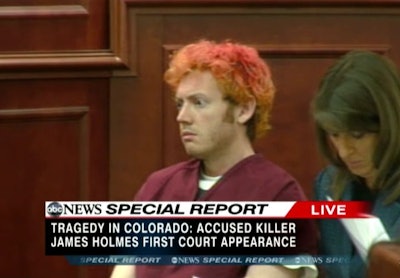 The man accused of the worst mass shooting in U.S. history appeared dazed as he sat in court Monday with a shock of orange hair and brick-red jail jumpsuit.
James Holmes, 24, sat in the Arapahoe County courtroom with one of his public defenders, Tamara Brady, reports the Denver Post.
District Attorney Carol Chambers declined to say whether she will seek the death penalty for Holmes when she files formal charges, expected next Monday, in the deaths of 12 people and the wounding of 58 in the Friday shooting spree during a screening of "The Dark Knight Rises" at the Century 16 movie theater in Aurora.
News coverage has depicted Holmes as a shy loner who once showed promise as a neuroscience student. Holmes was raised in San Diego and graduated with honors from the University of California, Riverside. He earned a grant to pursue a doctorate in neuroscience at the University of Colorado's Anchutz Medical Campus in Aurora.
Holmes had no criminal record prior to the shooting, and was once ticketed for speeding in October 2011, reports Fox News.
Related:
Colo. Cops Defeat Holmes' 'Death Trap'
Observant SWAT Cops, Jammed Gun Saved Lives In Colo. Shooting