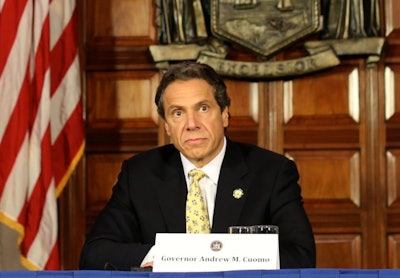 New York's Gov. Andrew Cuomo will ask the legislature to decriminalize the possession of small amounts of marijuana to reduce the number of "stop and frisk" encounters between officers and subjects, he announced today.
Cuomo's change of state law means 25 grams or less of marijuana in public view would be charged as a violation rather than a misdemeanor. The NYPD's police commissioner and patrol union support the move.
"This is an issue that disproportionately affects young people—they wind up with a permanent stain on their record for something that would otherwise be a violation," Gov. Cuomo said in a release. "The charge makes it more difficult for them to find a job. Together, we are making New York fairer and safer, and ensuring that every New Yorker has access to justice system that doesn't discriminate based on age or color."
The move aligns with a policy directive issued by Police Commissioner Raymond Kelly to officers last year. Subjects who smoke marijuana in public would still be charged with a misdemeanor.
The Marijuana Reform Act, signed by Governor Hugh Carey in 1977, made private possession of a small amount of marijuana a violation punishable by a maximum fine of $100 for first-time drug offenders. Marijuana in public view remained a misdemeanor.
In the years since the passage of that law, arrests for possession of small amounts of marijuana have jumped from approximately 2,000 in 1990 to over 50,000 today. About 94% of those arrests occur in New York City.
Of the individuals who were arrested in New York State last year, more than 50% were under 25 years old and 82% were either Black or Hispanic. Of those 53,124 arrests, less than 10% were ever convicted of a crime.
"The Governor's call for the changes in police response to contraband discovered pursuant to a properly conducted stop, question, and frisk make sense and runs parallel with a recent policy change issued by the Police Commissioner," said Patrick J. Lynch, president of the New York City Patrolmen's Benevolent Association. "The NYC PBA is very supportive of clear and precise directions to its members regarding their police responsibilities in specific instances."