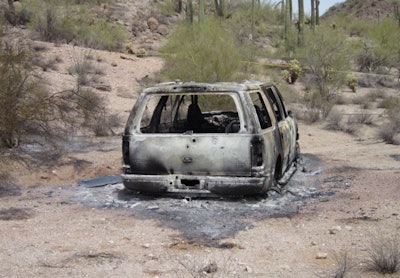 Five charred bodies found in a vehicle in a southern Arizona smuggling corridor may be connected to a Mexican drug cartel, according to a spokesman for Pinal County Sheriff Paul Babeu.
A Border Patrol agent spotted a white Ford Expedition through binoculars at about 4:30 a.m. Saturday in the Vekol Valley about two miles north of Interstate 8 and west of Casa Grande.
Sheriff's investigators are working to identify the bodies, which were so badly burned their gender could not be initially determined. Four of the bodies were found in the vehicle's back cargo area. The fifth was found in the rear passenger seat.
The vehicle left tracks suggesting it launched off the highway, going airborne for a short distance before landing in the desert. The tracks continued on for a couple of miles.
By Paul Clinton