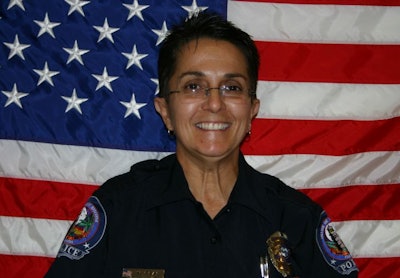 Key Biscayne Police Officer Nelia Real came to policing later in life. The department swore her in just two years before her 40th birthday.
The former newspaper reporter and one-time dispatcher may have overcome hurdles to live her dream as a patrol officer, yet she now faces her toughest challenge.
Officer Real, 54, is fighting for her life, after she was shot in the neck by a carjacker and robbery suspect late Thursday. Doctors at Memorial Regional Hospital stabilized Officer Real, who was shot point blank by David Edwin Bradley after she stopped at an accident scene on the Florida Turnpike.
Bradley was wandering in lanes in the middle of the Turnpike after crashing a stolen Infiniti G35. When Bradley eventually turned the gun on himself, after wounding a second officer, Bradley's crime spree came to an end.
"She was pulling up to what she perceived as a simple accident scene," Chief Charles Press told POLICE Magazine. "The second she lights up her blue lights, the guy just turned on her from point-blank range and opened up on her."
When she saw the gun, Officer Real quickly threw her vehicle in reverse, a decision Chief Press said saved her life. The second life-saving action came from Broward Sheriff's Deputy Osvaldo Petitfrere, who loaded her into his cruiser and headed to the hospital rather than waiting for an ambulance.
Officer Real remained conscious, applying pressure to her own neck wound to limit blood loss. Surgeons are cautiously optimistic about the officer, who suffered a shattered jaw and still has bullet framents in her face.
"We're all pulling for her," Chief Press said. "She's got a tough road ahead of her. It's not going to be easy, and she faces a battle."
On Thursday morning, Officer Real told Chief Press she would retire from police work in 19 months to become a park ranger. During her 16 years on the force, she established the traffic unit for the 30-officer agency.
By Paul Clinton
Related: