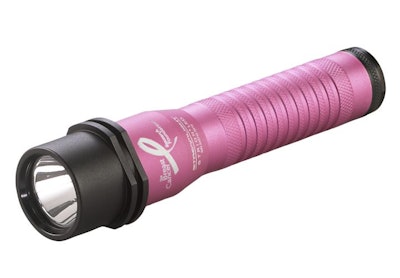 Streamlight, Inc., has introduced a pink version of its StrionLED tactical flashlight. The pink model is the first rechargeable product in the company's growing line of pink flashlight products designed to raise money to fight breast cancer, according to the company.
Streamlight will donate $5 from the sale of each pink Strion LED to the Breast Cancer Research Foundation (BCRF), a not-for-profit organization with a mission to achieve prevention and a cure for breast cancer. To date, Streamlight has donated nearly $230,000 to BCRF from sales proceeds of its pink flashlight products, including pink versions of its Nano Lightand 2AA ProPolymer.
"Breast cancer has such a devastating impact on so many American women and their families, and Streamlight is proud to continue doing its part to help raise money for a cure," said Loring Grove, Streamlight's global brand manager and a breast cancer survivor.
The lightweight, aluminum Strion LED has a 50,000-hour lifetime C4LED for extreme brightness. It offers three variable light intensity modes and a strobe function. On the high setting, the light delivers 160 lumens. The medium mode generates 80 lumens, while the low mode provides 40 lumens.
The Strion LED offers a run time of up to two continuous hours at the high setting, up to 4 continuous hours on medium setting and up to 7.5 continuous hours on the low setting. The strobe function operates for up to 5.5 continuous hours.
The light features a multi-function, push-button tactical tail switch, allowing for easy, one-handed operation of the light's momentary, variable intensity or strobe modes.
The pink Strion LED system includes a 120-volt fast charger clamp-style charger holder and is rechargeable up to 500 times. The light fits all existing Strion chargers.
The compact Strion LED model weighs only 5.2 ounces and measures 5.9 inches in length. The Strion LED is rated IPX4 for water-resistant operation. It retails for $192.67.