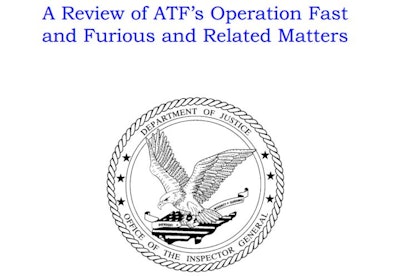 Federal agents and prosecutors in Phoenix ignored risks to the public and were primarily responsible for the botched effort to infiltrate weapons-smuggling rings in the operation dubbed "Fast and Furious," according to a report released Wednesday by the Justice Department's inspector general.
The long-awaited report also criticized senior officials at the Justice Department and its Bureau of Alcohol, Tobacco, Firearms and Explosives in Washington for lax oversight of the attempt to block the flow of weapons to Mexico's violent drug cartels. Many of the weapons later turned up at crime scenes in Mexico and the United States, including one where a U.S. Border Patrol agent was killed.
The inspector general's report recommended that the Justice Department review the actions of 14 officials and consider whether disciplinary action is warranted. Among them are former acting deputy attorney general Gary Grindler, Assistant Attorney General Lanny Breuer, former acting ATF director Kenneth Melson, former ATF special agent in charge William Newell and Deputy Assistant Attorney General Jason Weinstein.
The inquiry "did not find persuasive evidence that any supervisor in Phoenix, at either the U.S. Attorney's Office or ATF, raised serious questions or concerns about the risk to public safety posed by the continuing firearms purchases or by the delay in arresting individuals who were engaging in the trafficking," Michael Horowitz, the Justice Department's inspector general, wrote in the 471-page report. "This failure reflected a significant lack of oversight and urgency by both ATF and the U.S. Attorney's Office."
Read the full Washington Post story.