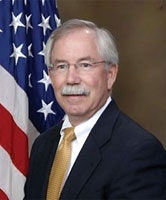 Facing increasing pressure to resign, the interim head of the Bureau of Alcohol, Tobacco, Firearms, and Explosives (ATF) instead added more fuel to a congressional gun-trafficking probe by implicating the FBI and Drug Enforcement Administration on Wednesday.
Kenneth Melson told congressional investigators that several Mexican drug cartel operators targeted by his agency were paid informants for the FBI and DEA.
Melson said the FBI and DEA kept the ATF "in the dark" about their relationships with the cartel informants.
Under the ATF-led Fast and Furious gun-trafficking operation, the ATF lost track of the guns, which have been found at crime scenes in Mexico, a rural area near Nogales, Ariz., where a U.S. Border Patrol agent was killed, and at crime scenes in Phoenix.
Source: Los Angeles Times