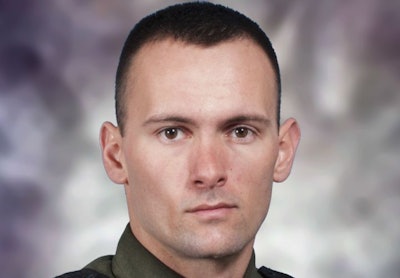 The second West Virginia State Police trooper shot by a handcuffed man during a traffic stop late Tuesday has succumbed to his wounds, the agency announced.
Trooper Workman, who had been in "extremely critical condition" in a coma at CAMC General Hospital, was pronounced dead Friday. Trooper Marshall Bailey died at the scene.
"Trooper Workman was an outstanding young man with a promising future," said Colonel C. R. "Jay" Smithers. "It is unfortunate his life was cut short by this senseless and cowardly act. Our prayers continue to be with his family and friends. I am overwhelmed by the support the West Virginia State Police family is receiving during this difficult time."
The troopers were shot by Luke Baber, 22, after the officers apprehended Baber along State Route 36 near Interstate 79 in Roane County. Troopers Bailey and Workman arrested an intoxicated Baber, handcuffed him in front, and placed him in the back of the cruiser. That's when Baber pulled out a Hi-Point 9mm pistol missed in the search and shot the two troopers.
Baber was fatally shot by Clay County and Roane County deputies, who engaged him at a nearby barn.
Trooper Workman, 26, had served the state police since Jan. 10, 2011. He was assigned to the Clay Detachment.
"Trooper Workman's family would like to inform the public that he is an organ donor," according to a statement posted on Gov. Earl Ray Tomblin's Website. "It is the family's sincere hope that even in his death, his selfless service to others will continue by providing others an opportunity to live a fruitful life."
Related: