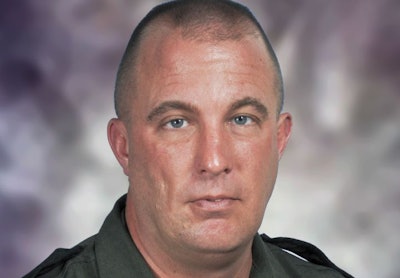 A suspect who fatally shot a West Virginia trooper and wounded two other officers late Tuesday was shot and killed after several sheriff's deputies tracked him to a barn.
Trooper Marshall Bailey, a 16-year veteran, was killed by a handcuffed auto-theft suspect at the Wallback park-and-ride on Interstate 79 in Clay County, Col. Jay Smithers, West Virginia State Police superintendent, said during a Wednesday afternoon press briefing.
The incident began when Troopers Bailey and Eric Workman spotted a white Chevy Silverado that had been reported stolen. A dispatcher sent the troopers to the area, after a 911 caller reported a reckless driver of the Silverado at 7:25 p.m.
Troopers Bailey and Workman, working in one cruiser, stopped the vehicle at 7:36 p.m. at the park-and-ride. The officers arrested the driver, 20-year-old Luke Baber, after determining he was intoxicated. Baber was searched, handcuffed, and placed in the back of the cruiser. The troopers called for a tow truck.
While seated in the back of the cruiser, Baber pulled out a Hi-Point 9mm pistol and fatally shot Trooper Bailey. Baber then shot Trooper Workman, who remains in "extremely critical condition" in a coma at CAMC General Hospital. Baber also stole Trooper Bailey's service weapon, Col. Smithers said.
Baber then shot the two truck driver, Frank Massey, who arrived to pick up the vehicle. Massey returned to his truck and called for help.
Sheriff's deputies from Clay County and Roane County searching for Baber located him at a nearby barn. Deputies engaged Baber, who shot Roane County Deputy John Westfall three times in the wrist, left arm, and abdomen. Baber was killed in the return fire.
Deputy Westfall's vest likely saved his life.
"The thoughts and prayers of the West Virginia State Police are with the family of the fallen trooper and with those who were injured," Sgt. Michael Baylous, a state police spokesman, said in a release.
There have been 39 West Virginia troopers killed in the line of duty, Col. Smithers said.
By Paul Clinton
Related: