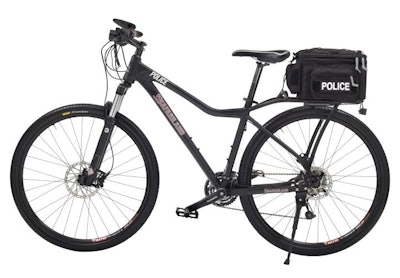 The Tampa Police Department purchased 200 Safariland/Kona 29er patrol bikes for officers to use during the four-day Republican National Convention starting Monday.
The size and scope of the convention, along with an increasing awareness of the importance of security, made the patrol bike an attractive choice for on the ground security efforts, according to Safariland.
The Safariland/Kona Patrol Bike was engineered from the ground up with specific features to meet the rigorous demands of bike patrol officers. Designed to be the premium patrol bike for law enforcement and security markets, it utilizes some of the most technologically advanced components in the industry and was launched from a successful partnership between Safariland and Kona USA, one of the leading all-terrain bicycle manufacturers.
"Safariland is pleased that our Patrol Bike 29er, a product we perfected with extensive feedback and testing from law enforcement officers, and introduced in May, has already attracted the attention of a prestigious venue such as the RNC," said Scott Carnahan, Safariland's vice president of equipment marketing. "As with all Safariland products, our goal is to combine top quality with safety in everything we do. We have met that goal with this bicycle."
The Safariland/Kona Patrol Bike is built with the Kona Race Lite 7005 aluminum frame that has been engineered for ideal shape and wall thickness for extra performance and durability. It features Shimano components throughout, including the Shimano 30-speed drivetrain with SLX derailleur, Roxshox high-performance forks, and hydraulic disc brakes that provide excellent performance and additional stopping power. The tapered oversized headtube provides improved stability and overall riding performance for rugged all-day patrol requirements, according to the company.
Additional features that add to the value and functionality of this bicycle are the integrated rear rack for superior payload strength, an internal cabling system that not only presents a clean look but offers non-obstructive riding, and an optional light and siren system from CycleSiren.
Related: