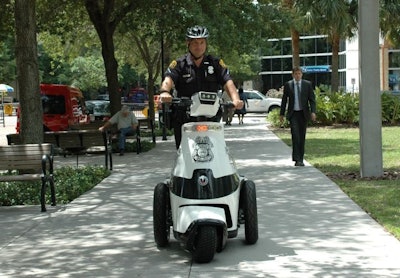 Mitt Romney isn't the only one developing his gameplan for the Republican National Convention in Tampa from Aug. 27-30.
The Tampa Police Department has prepared what command staff members are calling a layered approach for deploying vehicles and officers to provide security at the event, which will be staged at the Tampa Bay Times Forum.
"Like anything else, you need to have redundancy and diversification in your plan, by having multiple vehicle types," Assistant Chief John Bennett tells POLICE Magazine. "You have a diversified fleet to do different jobs. Everything's layered. We have reduncancy in our fleet to help us to do the job."
While most of the patrol cars and SUVs will remain at the perimeter of the forum, a collection of more nimble utility vehicles and bicycles will dot the landscape as tools for the officers working the event.
The department will purchase a dozen Bobcat 3400XL utility vehicles and lease another 30. Four-wheel drive provides torque allowing better traction over grass, curbs, and other rough terrain. The vehicles can reach 30 mph with wither a 32-hp gas-powered or 24.8-hp diesel engine.
"We have a lot of open-air special events in Tampa, and we've had a lot of success using these vehicles to navigate thick crowds and support medical calls," Bennett said. "They're faster than a patrol car or ambulance, and they have higher clearance than a standard police car."
The department will weld steel cages to the 12 purchased Bobcat utility vehicles to facilitate prisoner transport for possible arrests. The department will also outfit its Chevy Expedition SUVs with personnel racks outside the vehicle so 8-10 officers could be quickly moved to a location.
The Tampa PD is also purchasing several T3 Motion electric standup vehicles agencies often use for community policing. The T3s provide situational visibility, command presence, and greater agility in response for officers using them.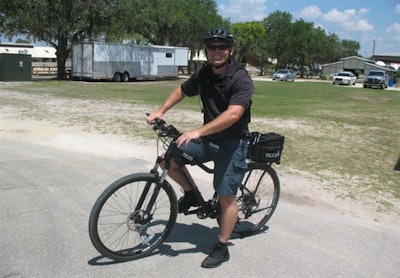 And lastly, the Tampa PD will provide 250 officers from dozens of surrounding agencies with new Safariland/Kona Patrol Bikes. The officers, who have volunteered to help with the event, will get to take the bicycles back to their own agency after the event.
"The patrol bicycles are even more nimble," Bennett said. "It will be hot and muggy, so we'll give them specific areas to patrol."
Two large trailers will deliver the bikes to the forum, so officers won't have to purchase mounts for their patrol cars.
Related: