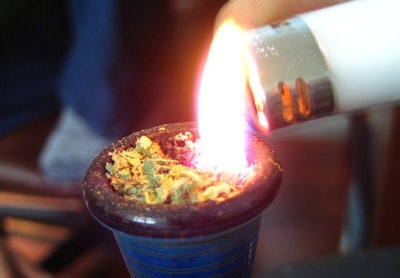 Voters in Colorado and Washington legalized recreational marijuana, setting up a showdown with the Department of Justice. Also, Massachusetts became the 18th state to legalize marijuana for medical purposes.
The executive director of Law Enforcement against Prohibition (LEAP), retired and current officers who support legalization, said the measures will bring about a "smarter and more humane justice system."
"The pace of reform is increasing," Neill Franklin said in a statement. "It took us a long time to get here, but we have finally begun to win the war on drugs by realizing it is time for that war to end."
Colorado Attorney General John Suthers called state legalization "bad public policy" but said he would respect the will of the voters. The U.S. Supreme Court has given the federal government the power to criminally sanction possession, use and distribution of marijuana, Suthers told the Denver Post.
Amendment 64, which allows people 21 years old to purchase one ounce, led Wednesday with 54.8% voting yes and 45.1 percent voting no, with 41 of 64 counties reporting.
In Washington, voters approved Initiative 502, which allows the state to legalize, regulate, and tax marijuana sales. The initiative was led by former federal prosecutors, the Seattle City Attorney, and an ex-top FBI agent, reports the Seattle Post-Intelligencer.
The initiative contains a one-year rule-making procedure initiative sponsors hope will stave off a legal fight with federal authorities. It will allow "adult conversation at all levels," Seattle City Attorney Pete Holmes said. Initiative 502 passed with 55.4% voting yes and 44.5% voting no, with all counties reporting.
In Colorado, citizens can grow up to six marijuana plants. The Washington measure bans cultivation by citizens.
A similar measure in Oregon failed to pass. Measure 80 gained a 45.1% yes vote and 54.8% no vote, according to Oregon's secretary of state.
Detroit voters passed Proposition M, which partially decrimilizes marijuana. The ballot measure amends a 1984 Detroit city ordinance to exempt adults over the age of 21 from being prosecuted for the possession of less than an ounce of marijuana on private property, reports the Huffington Post.
Related:
Ballot Measures 2012: Death Penalty, Legal Marijuana, Bargaining Rights