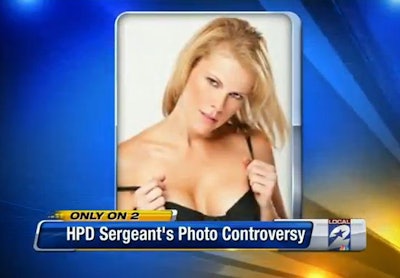 A Houston Police officer who posted racy photos of herself on a modeling site has lost her sergeant's bars, as the agency has demoted her to officer and assigned her to the property room, reports KSAT.
The Houston PD suspended Stacey Suro in October, after the department found hundreds of photos of the buxom sergeant on ModelMayhem.com. Fetish and bondage photos appeared on the site, as well as one with Suro wearing her police uniform. She included a bio referring to herself as "Tessoro."
Officer Suro, a 42-year-old single mother and 20-year veteran, will no longer patrol the streets of west Houston.
Related: