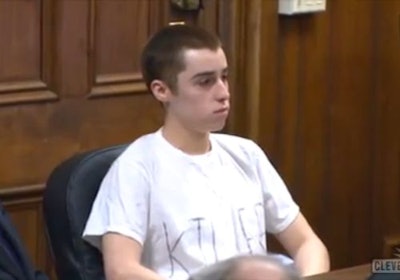 The Ohio teenager who killed three classmates in a cafeteria attack a year ago showed no remorse as a judge gave him three life terms in prison on Tuesday.
During sentencing, 18-year-old T.J. Lane wore a T-shirt with the word "killer" written on it and said, "This hand that pulled the trigger that killed your sons now masturbates to the memory. F**k all of you." View the statement here.
Geauga County Common Pleas Judge David Fuhry sentenced Lane for the slayings of Daniel Parmertor, 16; Demetrius Hewlin, 16; and Russell King Jr., 17. Lane also wounded Nate Mueller, Joy Rickers and Nick Walczak, who is paralyzed from the waist down, on Feb. 27, 2012.
On Tuesday, Lane smirked and laughed as the victims' families made statements in the courtroom. After Lane's defiant statement, he stuck out his middle finger, reports the Plain Dealer.
In addition to the three life sentences, Lang received eight years for a fourth count of attempted aggravated murder, six years for a fifth count of attempted aggravated murder and six years for a sixth count of felonious assault, reports NBC News.
Lane wasn't eligible for the death penalty because he was 17 at the time of the shooting.