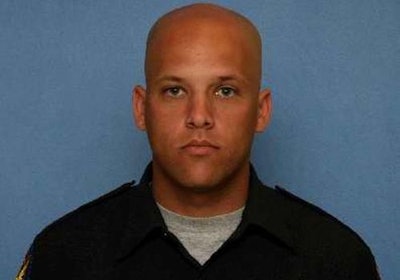 Phoenix Police have filed manslaughter charges against a suspect already in custody on drug and immigration violations that they believe struck and killed an officer processing a DUI arrest.
Jesus Cabrera Molina, 24, has admitted he was drunk and high on cocaine the night his SUV struck and killed Officer Daryl Raetz, but he denies he was behind the wheel, reports Phoenix New Times.
Raetz, 29, was struck at about 3:30 a.m. on May 19, at 51st and Cambridge avenues. The driver fled the scene, and Surprise Police officers stopped an Expedition matching the description of the vehicle that struck the officer.
When he was arrested, Cabrera Molina had a small bag of cocaine in his pocket. Federal immigration officials also issued a detainer to take custody of Cabrera Molina because they said he is in the country illegally and skipped a court date after posting a $5,000 bond in 2012, reports the Arizona Republic.
Arizona law enforcement officers have rallied around the family of Officer Raetz. Severl hundred officers attended his daughter's kindergarten graduation ceremony.