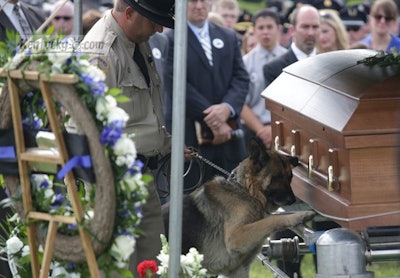 Bardstown (Ky.) Police Officer Jason Ellis was laid to rest Thursday after a funeral service that drew hundreds of law enforcement officers from surrounding states.
Hundreds of police cruisers and other emergency vehicles made the 20-mile procession to the memorial for Ellis, 33, who was killed May 25 in what police called an ambush at an exit off the parkway. He was a K-9 officer for the Bardstown department, but his dog, Figo, was not with him when he was shot, reports the Lexington Herald-Leader.
Figo kept a vigil beside Officer Ellis' casket. During the memorial service, Figo paid his last respects, laying his right paw on the officer's casket in a moment captured by a Herald-Leader photographer. The photo was posted to Reddit and has gone viral.