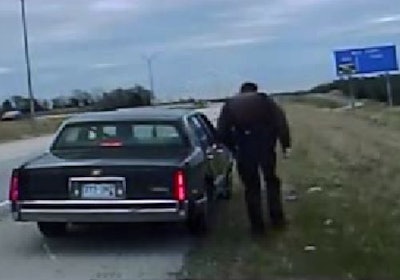 Newly released dash-cam footage obtained by KFDX shows a Colorado murder suspect opening fire on the Texas deputy who stopped his black Cadillac in March.
Montague County (Texas) Sheriff's Deputy James Boyd wasn't aware that authorities were searching for Evan Ebel in connection with the murder of a Colorado corrections chief and pizza delivery man when he stopped his vehicle on March 21.
The video footage shows Deputy Boyd approach the Cadillac on the passenger side and bend down toward the open window. The driver then fired three shots, striking the deputy twice in his ballistic vest and once on his head. Deputy Boyd then falls onto a weed-and-dirt median.
Moments later, an off-duty Johnson County Sheriff's detective stops to help and radios for help. View the video here.