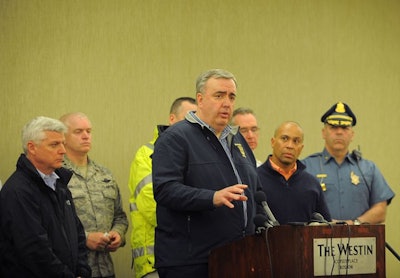 The Boston Police Department wasn't informed of a Russian intelligence warning about the Boston Marathon bombing suspect or an FBI probe of the matter, Commissioner Edward Davis told Congress today.
Davis told the House Committee on Homeland Security that he was first told about Tamerlan Tsarnaev's background the morning he was killed in a confrontation with police in Watertown. The FBI issued a statement in response saying the information had been entered into a federal database that local officers could access.
Davis said his agency's members of the Boston Joint Terrorism Task Force were not aware of the FBI's 2011 assessment of Tsarnaev—that included an interview with the suspect—and the agency's conclusion that he didn't pose a threat. Three Boston PD detectives and one sergeant work full-time on the task force, reports the Boston Globe.
Information about the assessment of Tsarnaev was entered into Guardian, a web-based counter-terrorism incident management system, according to the FBI. Task force members have access to Guardian and "are responsible for maintaining awareness of possible threats to their respective jurisdictions," according to the FBI statement.
Authorities may have suspected the Boston Marathon's finish line could be a target, following an 18-page Department of Homeland Security report dated April 10 that identified it as such, reports the Los Angeles Times.
Generated by the Boston Regional Intelligence Center, the report noted that at the time there was "no credible, specific information indicating an imminent threat" to the race.
On Wednesday, Tsarnaev's body was removed from the Worcester funeral home and buried at an undisclosed location outside Massachusetts, reports the Globe. The Worcester PD confirmed the body has been removed from the city. The department was spending $10,000 a day to provide security for Graham Putnam & Mahoney Funeral Parlors.