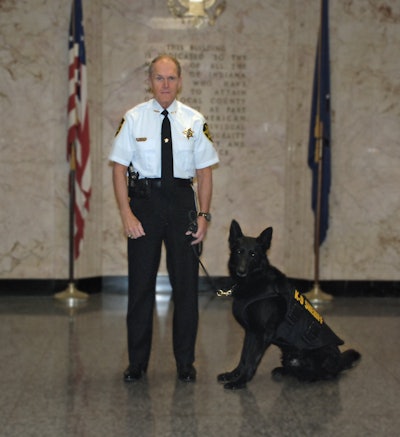 Sheriff Robert Fyock of the Indiana County (Pa.) Sheriff's Department rests easier now that his K-9 partner, German shepherd Bak, wears a stab- and bullet-resistant vest donated by a concerned citizen.
Devin Kundla purchased the vest and donated it on behalf of the Indiana County Humane Society, for which he is a director.
"Please accept my sincere thank you for your generous purchase of the ballistic bullet/stab protective vest for K-9 Bak," Sheriff Fyock told Kundla in a letter. "Knowing that he now has and will have better protection when working in the future does make me feel a lot better."
Fyock says that after Pittsburgh PD K-9 Rocco was killed in January, people became more aware of the need for police dogs' protection on the job. A proposed Pennsylvania bill being called "Rocco's Law" would amend Pennsylvania's Dog Law to increase penalties for the torture or killing of a police dog from a third- to a second-degree felony.