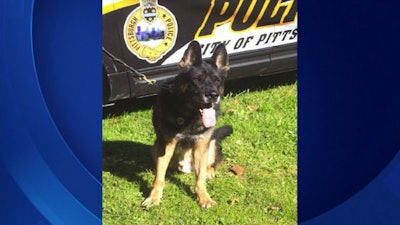 Rocco, the Pittsburgh police K-9 officer, has died.

City police officials were preparing for a press conference this evening to detail the circumstances of the German shepherd's rapid demise today. Earlier, police spokeswoman Diane Richard said Rocco had been improving at the Pittsburgh Veterinary Specialty & Emergency Center on Camp Horne Road.

But this afternoon, dozens of Pittsburgh police officers began arriving at the clinic to pay their last respects to Rocco, who was stabbed Tuesday night while apprehending a suspect, the Pittsburgh Post Gazette reports.

The dog was injured Tuesday night while helping Pittsburgh police capture a fugitive, 21-year-old John Rush of Stowe, who police said was found lurking in the basement of a building in the 3700 block of Butler Street in Lawrenceville.