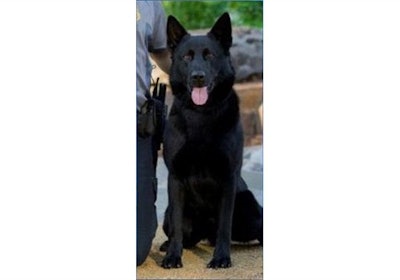 Oklahoma City Police said K-9 Kye, a 3-year-old Belgian German shepherd, died of cardiac arrest Monday afternoon. He had been stabbed several times by a suspect Sunday night, reports KOCO.com.
Kye's handler, Sgt. Ryan Stark, shot and killed the suspect after attempting to separate the two. According to investigators, the suspect had led police and troopers on a half-hour chase.
It began near Tinker Air Force Base and ended on Interstate 35 at the Goldsby exit after troopers rammed the suspect's car off the road into a ditch. Police say the suspect bailed out, ran about a quarter of a mile and hid behind a business.
Officers released the K-9 dog to go after him. When Stark caught up "the suspect was actively stabbing the dog," said Capt. Dexter Nelson, with the Oklahoma City Police Department.
The suspect has been identified as 22-year-old Mark A. Salazar, reports news9.com.
K-9 Kye will be laid to rest at 11 a.m. on Thursday, August 28 at First Southern Baptist Church, located at 6400 S. Sooner Road. The public is invited to attend the funeral, which will be conducted with full police honors.