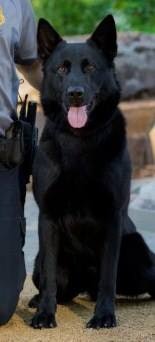 An Oklahoma City police dog stabbed by a man who led authorities on a pursuit Sunday night died Monday, police said.
Kye, a 3-year-old German shepherd with two years of service on the Oklahoma City PD, was involved in the pursuit, suffered multiple stab wounds Sunday night and had emergency surgery. He experienced complications after surgery and died about 3:30 p.m. Monday, police told the Daily Oklahoman.
The man suspected of stabbing Kye, Mark Salazar, 22, was fatally shot by the dog's handler, Sgt. Ryan Stark.
The incident occurred about 8:45 p.m. Sunday when police were called to a business burglary at 7233 S Air Depot Blvd. Officers saw a man drive away and pursued. Oklahoma Highway Patrol troopers joined the pursuit as the driver sped southbound on Interstate 35 near Main Street in Norman, Oklahoma City police Capt. Dexter Nelson said.
Troopers used tactics to end the pursuit near the Goldsby exit on I-35, where the vehicle hit a ditch west of the highway, Nelson said.
The driver got out of his vehicle and started running south near the service road. Stark let Kye chase the driver, and Kye apprehended the driver as he ran behind a business, police said.
Stark arrived behind the business and found the man armed with a knife, stabbing Kye, police said. Stark tried to separate the man from the dog before drawing his gun and fatally shooting the man, police said.