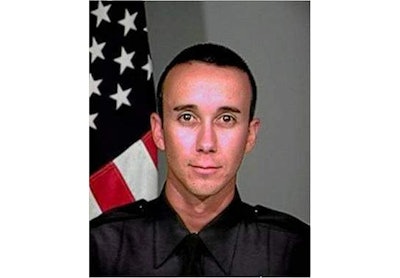 A San Bernardino (Calif.) PD officer shot in the head this morning near 19th Street and Garner Avenue remains in grave condition after undergoing surgery, police said this morning, reports the San Bernardino Sun.
Police identified the officer as 31-year-old Gabriel Garcia. His father, Capt. Ron Garcia, is operations director for the department and a life-long veteran of SBPD.
Garcia is divorced and has one child.
Police said one suspect is dead, and five suspects have been detained in connection with the shooting.
The dead gunman was identified as Alex Alvarado, 38, of San Bernardino. Police said Alvarado is a long-time member of a criminal street gang based in Redlands.
Police said Garcia was shot once in the head and twice in the upper body with an assault rifle during a protracted gun battle. His trainee, who shot and killed the suspect, was not wounded and has not been identified.