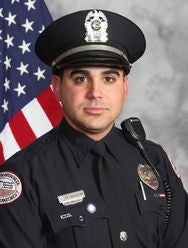 One of the two Beavercreek, Ohio, police officers involved in the Aug. 5 fatal shooting of John Crawford III at a Walmart is back at work, the city's law director said Wednesday.
Beavercreek city attorney Stephen McHugh told the Dayton Daily News that Sgt. David Darkow has returned to work, while Officer Sean Williams remains on administrative leave.
Neither McHugh nor the Ohio Attorney General's Office has confirmed that Williams fired the shot that killed Crawford in the Beavercreek store after police said Crawford twice ignored commands to put down an air rifle pellet gun.
After showing a short portion of Walmart's surveillance video to Crawford's parents, Ohio Attorney General Mike DeWine announced Tuesday that a special Greene County grand jury will convene Sept. 3 to determine whether criminal charges are appropriate.