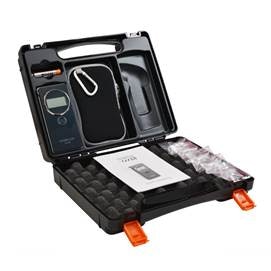 AK GlobalTech, a full-service breathalyzer company, has announced the release of its AlcoMate Revo. Combining the revolutionary innovation of PRISM technology with advanced, fuel-cell precision, the AlcoMate Revo breathalyzer offers reliability, convenience, and accuracy.
The AlcoMate Revo's patented pre-calibrated replaceable intelligent sensor module (PRISM) technology allows end users to change the breathalyzer's sensor on their own when needed. This exclusive technology eliminates the potential for downtime without the product, the need to mail it back and forth for calibration service, and the risk of gradual sensor breakdown typical of breathalyzers. Because of these advantages, the United States Navy and Marine Corps are exclusively using AlcoMate products with PRISM technology under a multi-year contract to assist with their personnel-wide alcohol testing policy.
Additional AlcoMate Revo product features include:
Department of Transportation approved for law enforcement (accuracy +/-0.005 at 0.10 g/dL)
National Highway Traffic & Safety Administration approved
U.S. Coast Guard approved
Fuel-cell sensor for maximum precision
Four-Digit LCD results display
Active pressure sensor / deep lung air sampling
Cumulative test counter
Low battery indicator / auto power off
Due to the product's accuracy and self-service feature, the AlcoMate Revo is an ideal solution for law enforcement and military personnel.
The AlcoMate Revo comes complete with a carrying case that offers a sturdy, reinforced polymer shell and padded interior for protection. Also included with purchase are two AAA batteries, five mouthpieces, and an installed fuel-cell PRISM sensor module.
The AlcoMate Revo retails for $249.95, and its replacement fuel-cell sensor modules are sold separately for $89.95. For more information or to purchase, visit http://alcomate.net.
About AK GlobalTech
Established in 2001, AK GlobalTech is a full-service breathalyzer company, providing calibration, repair, distribution, and retail services, as well as development and integration of advanced testing applications. The company's goal is to contribute to a national network of safety procedures and protocols for the prevention of alcohol-related incidents both in and out of the workplace. For more information on AK GlobalTech and its AlcoMate series products, http://alcomate.net.